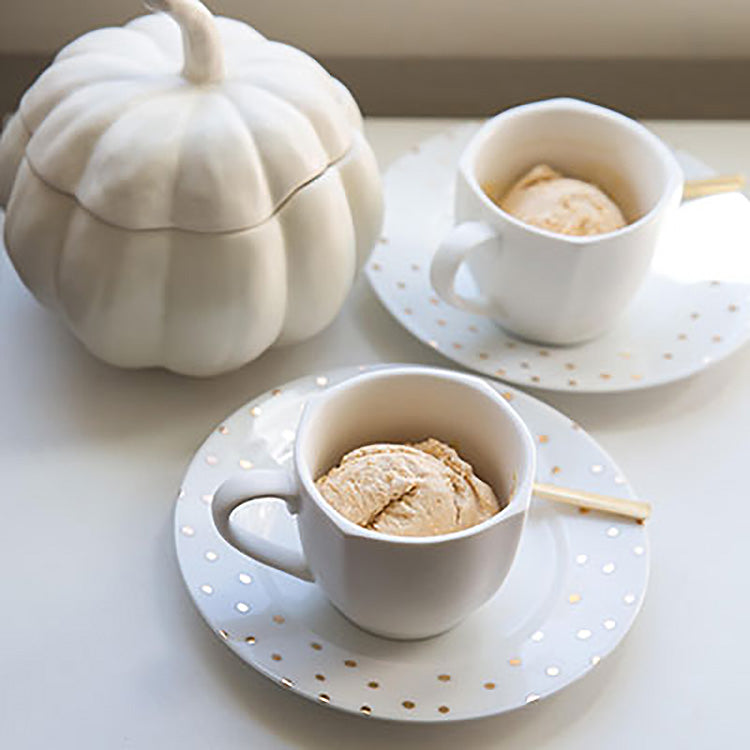 It's always pumpkin spice season! This tea-infused ice cream has just 4 simple ingredients (including our Bombay Chai tea), for a decadent treat.
Serves 4 - 8 (yields 1 quart/32 oz.)

Ingredients:
16 ounces heavy cream
5 Mighty Leaf Bombay Chai tea pouches
1 (14-ounce) can sweetened condensed milk
½ cup pure pumpkin puree

Directions
1. Prep an ice bath in a large bowl and set aside.

2. Boil the heavy cream. Turn off the heat. Steep the tea bags in the hot cream for 30 minutes, then remove the tea bags, squeezing out any trapped liquid with a spoon.

3. Pour the chai cream into a small bowl. Set the small bowl into the large bowl ice bath. Stir the chai cream for 5 minutes. Cover and chill the cream until very cold, about 2 hours.

4. Whisk the sweetened condensed milk and pumpkin puree in a medium-sized bowl; then set aside. Beat the chilled chai cream until stiff peaks form. Fold into the pumpkin condensed milk.

5. Pour the pumpkin mixture into a freezer-safe dish. Freeze for 6 hours or overnight.

6. Enjoy!


Photo by Annelies Zijderveld, author of Steeped: Recipes Infused with Tea.